On Monday night Brazil unleashed its latest weapon in what Guido Mantega, the finance minister, recently called a "currency war": an increase from 2 to 4 per cent in a tax on hot money inflows into bonds. Inflows into equities would continue to be taxed at 2 per cent, and direct investment not at all.
It went off with a whimper. Investors, in a reversal of the usual procedure, sold on the rumour and bought on the fact.
The Brazilian authorities are seeking to reverse the strength of the country's currency, the real, which has gone from being worth 25 US cents at the end of 2002 to less than nearly 60 cents today.
And the real did weaken sharply in late trading on Monday when it became known Mantega (pictured) had an annoucement to make. But after investors heard the details of the increased levy, they went right on buying the real regardless (see chart).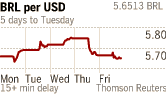 "It's no use shielding yourself from the sun with a sieve," said Armínio Fraga, former central bank governor, summing up investors' reactions.
Investors do worry, of course, that Brazil might follow up Monday's announcement by wheeling in heavier artillery, such as quarantines (obliging investors to park their money in Brazil for a minimum period) or large-scale intervention in currency markets by the central bank. It could also employ the country's newly-created sovereign wealth fund – which some call a sovereign debt fund.
Such moves could trigger a spike in yields on Brazilian bonds. Bloomberg reported that Monday's move already had analysts predicting "the biggest tumble in benchmark real-denominated bonds in 21 months".
But even if more weapons are unleashed, capital controls will not solve Brazil's problems or reverse the real's relentless rise.
Brazil attracts foreign capital for two big reasons: its interest rates are very high, because the government spends too much and saves too little, and because to lower rates would spark inflation. At the same time, Brazil has enormous investment needs, especially in infrastructure.
Those problems will not go away until they are addressed by politically difficult structural reforms. Waging a currency war won't do it.
Related reading:
Guest post: Dilma can break Brazil's interest rate curse, Tony Volpon, beyondbrics