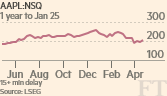 Amongst the general adulation surrounding Apple's results on Tuesday, there was one complaint. The company messed up in China.
Tim Cook, Apple chief executive, was inevitably asked about the botched China launch of his latest iPhone (the 4s) – when shoppers turned angry after the flagship Beijing store didn't open on day one.  His answer: "We thought we were betting bold – we didn't bet high enough." A reasonable excuse? Let's see.
First the good news for Apple – profits surged to $13.06bn, or $13.87 per share, in its December quarter, well ahead of analysts' expectations. It sold 37m iPhone handsets, which helped take revenues to a record $46.3bn. No wonder shares jumped 10 per cent.
But what about this China problem?
It's not as if China is a small market, for Apple or any other handset maker. There are 963m mobile users in China, of which 118m are on 3G networks. Apple's iPhone is not usually an entry-level phone – it's an upgrade, an aspirational purchase. China is a fairly mature phone market with spending power – 71 per cent of the population have a mobile phone.
And it's not as if China isn't on the radar at the top end of the market: it has just overtaken the US as the world's biggest buyer of smartphones. In the third quarter of 2011, there were 23.9m smartphone vendor shipments, to 23.3m in the US. China smartphone shipments rose 57.5 per cent from the second quarter.
Apple was the number four smartphone vendor in China in the third quarter. Nokia was top with 28.5 per cent market share, with Samsung second with 17.6 per cent, according to Strategy Analytics.
So what happened? The problem is that even though Apple knew demand was, in Cook's words, "off the charts", it underestimated the numbers. And it compounded the error by poor distribution of the stocks that it had, and poor crisis management.
On the launch day of the iPhone, a large crowd outside the flagship Beijing store spooked managers who decided to keep the shop shut for safety reasons – and possibly because there weren't enough phones on site. After a spot of egg-throwing from the crowd and a bit of police action, the other Apple stores in Beijing and Shanghai stayed closed as well.
Instead, Apple went ahead with online-only sales and quickly sold out altogether. So now it is left a stock shortage, angry customers in Beijing and Shanghai, and a lot of egg on its face, as well as on its Bejing display windows.
What should it have done? Theoretically, it could have raised prices – introducing a premium for day-one sales. But this could have courted a different kind of public relations disaster, with Chinese customers complaining they were being ripped off for buying what is already a high-priced product.
Apple should probably have concentrated more stock in the Beijing and Shanghai flagship stores, given their importance in China – and within Apple. The customers would have waited patiently if they had been confident of buying phones – as they have all over the world. There have been stories of scalpers causing trouble in Apple queues, but if the company can manage crowds in other countries, why not China?
These are the customers that Apple needs to keep happy – not just because they are loyal but because they are concentrated at two of the highest-profile outlets on the globe. If necessary, the company should have raided the online sales depots – and transferred stock. The online customers would have been unhappy with delays and even cancellations, but their complaints could be more easily managed. Nor have they queued up overnight in the cold. In the worst case, where would they have thrown their eggs?
Visiting an Apple store matters to Chinese customers at least as much as to others – the shops are so popular in China that as well as just fake iPhones and iPads for sale, there are fake Apple stores.
The company is rumoured to be in talks with China Mobile, the largest mobile company in China.  The operator dwarfs Apple's current partners, China Unicom.  If something does come of these alleged discussions, they will need a lot more phones at the ready.
Related reading:
Apple results surge past forecasts, FT
Apple Store? Yup, we can fake that too, beyondbrics