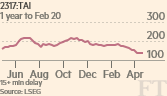 Hon Hai has announced it is raising the base salary of its 1m-plus workers by between 16 to 25 per cent, the first major pay hike since it doubled pay for operators and line managers in 2010 following a tragic series of suicides at its plants.
With Hon Hai, the Foxconn parent, and other Apple suppliers' plants currently undergoing an audit by the Fair Labour Association, that's good news, isn't it? Not so for investors, according to HSBC head of Taiwan research Jenny Lai.
Lai downgraded Hon Hai's stock to neutral on Monday, saying the big salary raises open the possibility for another round of big cost increases for the company. While Hon Hai is the world's biggest electronics contract manufacturer, its operating profit margin is less than 3 per cent.
Hon Hai shares fell 1.7 per cent on Monday to T$99.70. They have risen almost 50 per cent in the last six months, as investors have put last year's events behind them. But the stock is still around 7 per cent down over the past 12 months.
HSBC's Lai estimates that the pay raises could cost Hon Hai up to T$15bn a year. She adds:
While the annual salary hike is a normal practice, the magnitude of the salary hike is a negative surprise to us. As Hon Hai's original base pay was higher than the local minimum wage set by local Chinese governments, we had not expected a significant salary hike for 2012
The last round of salary increases had already proven costly for Hon Hai, even though the impact was mitigated by the fact that sales were also taking off thanks to Apple. Still, in the first half of 2011, Hon Hai's labour costs rose 91 per cent year on year, while sales rose only 26 per cent. The result was a sharp jump in Hon Hai's operating costs, and a decline in its shares through the second half of last year.
One bright spot for Hon Hai though, is that Apple relies as much on the Taiwanese company as Hon Hai does on Apple. Taiwanese media are reporting that Apple chief Tim Cook has been in town for discussions with Terry Gou, and there are strong expectations that Gou, a consummate salesman, will be able to persuade Apple to shoulder at least some of the costs.
With the iPad and iPhone still winning in their markets, that should not be a hard sell for Gou to make. But if the next products miss and demand starts to fall, then the matter of costs, and who bears it, will loom very large indeed.