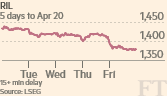 It's shaping up to be a gloomy year for Reliance Industries (RIL), India's biggest company by market capitalisation. After closing last calendar year with a worse-than-expected performance, the $47bn oil and gas conglomerate on Friday posted a second successive fall in net profits – this time of 21.2 per cent – to $813m, compared with the fourth quarter last year.
Squeezed refining margins and disappointing production from the natural gas fields in the Krishna Godavari basin off the east coast of India caused net quarterly profits to decline, while revenues rose 17 per cent to $16.8bn.
The company's consolidated revenues for the fiscal year grew 31 per cent to a record $66.8bn, while full year net profit after tax declined 1.2 per cent to $3.9bn. Markets, which had braced for lacklustre results, remained flat all day, while RIL's stock on the Bombay Stock Exchange closed down 1.39 per cent.
Mukesh Ambani, owner of RIL, and India's richest man, said: "Our businesses have delivered industry leading performances. This is a reflection of the quality of our assets and growing demand for our products in India and internationally."
The results met analysts' expectations, who emphasised the company's failure to ramp up production at the site of their joint venture with BP in the KG-D6 field, the largest block of natural gas in India. Revenue from RIL's exploration and production segment fell 36 per cent year on year.
"The decline in profits is led by weak refining margins and a slowdown in other businesses like gas production," Rajat Rajgrahia, director of research at Motilal Oswal, a local brokerage, told beyondbrics. "Their gas volumes have been falling continuously for last several quarters, and this quarter [will be] a new low."
Sumit Pokharna, oil and gas analyst at Kotak Securities said, "The company has failed to arrest the significant fall in gas production volumes from KG-D6… Refining, particularly, has done badly because global turmoil has caused demand for refined products to go down in the US and Europe while crude prices have not fallen, which is squeezing refining margins."
Even though gross refining margins rose 12 per cent from last quarter to $7.6 per barrel, a yearly decline of 17 per cent pared this quarter's gains. Analysts said RIL is unlikely to recover margins in the coming months as the global economy remains subdued.
"In the next six months, we don't expect a major recovery in global markets. So till that happens, there will be pressure on gross refining margins," Pokharna added.
Though a $2bn buy-back scheme was initiated earlier this year to shore up investor confidence, RIL's stock price has lost nearly 14 per cent in the past three months. According to analysts, it is unlikely turn around its performance any time soon. It closed at just above Rs730 ($14.03) before the results were announced.
Rajgarhia said: "Till the time we see some earnings recovery, we're unlikely to see any excitement returning to the [company's] stock."
Related reading:
Sensex: smoke over gas, beyondbrics
India: RIL argues, BP has to wait, beyondbrics
RIL raises $1bn bond to invest in US, beyondbrics