As Mukesh Ambani's $46bn-conglomerate Reliance Industries posted somewhat disappointing results on Friday, his partially estranged younger brother Anil Ambani, left, struggled with his own worries.
Just over a week after pricing the Singapore listing of its undersea cable unit, Flag Telecommunications, the younger Ambani's debt-ridden Reliance Communications announced it was putting the IPO on hold.
RCom's decision follows a number of recent delays in Singapore-based listings based on weak investor appetite, including those of Formula One and Manchester United.
The company said in a statement that it was waiting for "supportive market conditions and easing of prevailing global uncertainties to proceed with the offering…at an appropriate time in the future, in order to unlock the full value of the Flag Telecom assets in the best interests of its over 2 million shareholders".
RCom had hoped to raise up to $1bn by listing the loss-making Flag as a business trust on the Singapore stock exchange, though analysts said the high-end price range of $1.09-$1.32 may have proved unattractive for investors.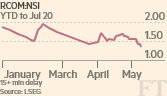 "At the price they stated last week, they're still commanding a premium," said Ankita Somani, telecoms analyst at Angel Broking. "The subscription to this IPO will still be keenly watched whenever it happens because it will tell us the brand value of RCom, especially overseas."
RCom recently enlisted the help of three Chinese banks to tackle its $7bn debt, and the IPO would have been another step in the right direction, though perhaps not enough, according to analysts.
"The IPO will definitely reduce debt to some extent but not much," Somani said. "RCom's operating performance hasn't improved over the last several quarters. Their revenues are flat and their costs keep increasing; their accounting policies are difficult to understand. The management makes an announcement but nothing seems to materialise – with their tower [infrastructure] business or with this listing. That definitely dampens the market sentiment."
Related reading:
RCom shares up on cable unit price, beyondbrics
Anil Ambani gets new Chinese boost, bb
India's RCom plans to list cable unit, bb
Chinese banks lend Anil Ambani $1.2bn, FT