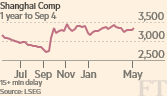 The reported decision by the People's Insurance Company (Group) of China to limit its planned multi-billion dollar initial public offering to Hong Kong and postpone a parallel listing in Shanghai is a clear sign that the Beijing authorities are worried about the persistent weakness of the mainland stock market.
Bloomberg reported that the state-owned insurance company, which had initally planned a dual listing in the two cities, may postpone the Shanghai sale while pressing ahead in Hong Kong in October or November. If it raises as much as it originally proposed – around $6bn – it would be the third largest IPO of the year, after Facebook and Japan Airlines.
Bloomberg said, citing unnamed sources, that PICC received approval from the Hong Kong stock exchange in June to sell shares in the city. It may now list in Shanghai at a later date.
As the FT reported, PICC originally approached investment banks about the planned IPO in May, but, as the FT also reported, delayed the listing in July because of market conditions.
Given the state of the global economy – and investment sentiment – even the limited Hong Kong-only option can hardly be guaranteed.
But there's no cloud so dark that a bullish analyst cannot find a glimmer of light. Steven Sun, head of China equities at HSBC, takes comfort from the postponement of the Shanghai listing as evidence that the authorities are responding seriously to the slump in Shanghai equities.
For the past decade, IPOs in the A-share market have been suspended twice to facilitate structural reforms and boost performance amidst difficult markets:
 PICC [pulling] out its A-share IPO is a clear sign that the government is deeply concerned about the dismal A-share market performance, which could be a cause of concern ahead of the leadership reshuffle (likely in Mid-October).
Sun points out that since the new chairman of the China Securities Regulatory Commission, Guo Shuqing, took charge last October, there have been "noticeable changes in the pace, magnitude and valuation of A-share IPOs".
The number of issues has fallen to 137 in the first eight months of 2012, down from 213 in the same period of 2011; the amount raised has plunged 56 per cent to Rmb93bn; and the valuation has fallen from 48 times earnings to 30 times earnings.
For many investors these have been signals to stay away. The Shanghai Composite index is now at its lowest since May 2009.
But Sun points out that when twice in the past Shanghai IPOs were suspended altogether, shares subsequently bounced back sharply – bringing bumper profits to contrarian investors. Sun writes:
1. IPO was suspended in May 2005 – May 2006 to facilitate the  non-tradable share reform and boost market as SHCOMP dropped to 1,060 trough. By May 2006, SHCOMP went up over 50%

2. IPO was suspended in Sept. 2008 – June 2009 due to global financial crisis and to boost market as SHCOMP dropped to 2,293 trough. By June 2009, SHCOMP went up some 30%
Every crisis is different amd past peformance is no guarantee of future results, as the investor health warnings say. But Sun's chart offers food for thought:
Related reading:
PICC approaches 14 banks for IPO, FT
Cornerstone investors: PICC and choose, FT