You might think that Zoomlion, a Chinese construction machinery maker, ought to focus on bricks-and-mortar projects, but it just can't seem to resist the siren call of high finance.
First it ramped up its lending business, providing vast amounts of credit to its customers. Now it's getting into the insurance trade.
Zoomlion earned the dubious distinction earlier this year of being the most shorted stock on the Hong Kong stock exchange, in part because of fears about China's property slowdown but also in large part because of its vendor financing operations, as detailed in this FT report by Paul Davies.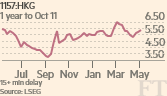 Relative to its Rmb20bn in lease financing last year, the insurance business will be small beer at first for Zoomlion. It will invest Rmb100m for a nearly 9 per cent stake in the company, according to its statement to the Shenzhen Stock Exchange (Thank you, Kate Mackenzie at Alphaville for spotting this).
The Chinese insurance regulator has ruled that the insurance company will have to restrict its operations to Hunan, Zoomlion's home province, for two years. Zoomlion will fund the investment with its own capital and it said that it didn't anticipate a major impact on its finances or its results.
Just as curious as Zoomlion's penchant for finance is the industrial logic of its move into insurance. Its international peers such as Caterpillar also have insurance operations, but they primarily focus on service coverage for the actual machinery.
In Zoomlion's case, the insurance company will provide life, health and accident insurance. Linus Yip Sheung-chi, a strategist with First Shanghai Securities, thinks the latter makes a lot of sense.
"The insurance business is likely to create synergy with Zoomlion's core business as it could cover possible injuries occurring during infrastructure construction," he told the Standard, a Hong Kong English daily.
So the sales pitch might go a little something like, "don't worry, if you break your leg using our machinery, we've got you covered".
At the very least that would be a sign that Zoomlion is standing by the quality of its products.
Related reading:
Overseas sales boost Zoomlion and Sany, FT
Zoomlion fuels fears over China debt bubble, FT