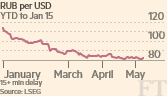 As expected, Russia's central bank left interest rates unchanged at its monthly meeting on Tuesday. But it slightly altered the wording of its policy statement, in a gentle hint that it might soon start cutting rates in response to a slowing economy.
As in recent months, the bank said in its statement that it would "continue to monitor inflation risks, global economic developments and the consequences of the monetary conditions tightening for the Russian economy."
But it dropped a line from last month's statement which said 'money market rates are at an acceptable level for the nearest future'.
Ivan Tchakarov of Renaissance Capital said in a note:
This might indicate that the central bank is now preparing the ground to cut policy rates to accommodate a soft patch in the economy and a generally contained inflation.
However, the central bank's hawks, who have resisted calls for rate cuts in recent months, will still not be happy with the inflation record. The bank said in its statement that annual inflation on Jan 9 was at 6.8 per cent, above its target range for the year of 5-6 percent. It added that if headline inflation stayed above target for an extended period, this would be negative for inflation expectations.
The central bank held the widely-followed fixed one-day repo rate at 6.5 per cent, with the auction repo rate remaining at 5.5 per cent. The overnight deposit rate, a floor for interbank rates, was left at 4.5 per cent. The refinancing rate, the cost of overnight loans from the central bank, was kept at 8.25 per cent.
Tchakarov wrote:
We see the risks slanted to the CBR adopting a more explicit accommodating stance in Feb/March as the soft patch in the economy lingers on at least for one more quarter and transient inflation risks peter out.
Related reading
Resilience of Russian shoppers beginning to flag beyondbrics
Russia: GDP up 2.9 per cent as drought limits economic growth, beyondbrics
Russian rates: election boost is over, time to worry about growth beyondbrics