While Jakarta struggles with floods this week, its stock market is hitting record highs.
Of course, there is no direct connection between the water washing through the streets and the financial flows in the equity market. Even the links to overall economic growth are fairly remote. But the floods are a painful reminder of the growing pains of emerging markets – pains which can make themselves felt if Indonesian citizens ever decide that the authorities aren't doing enough to address the country's many infrastructure gaps.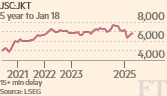 HSBC says in a report that while, so far, the effects of the floods are minor, this is only the start of a rainy season that runs until April. So there is still plenty of time for bigger disasters to strike and, perhaps, for the floods to have an impact on the national economy, given than Jakarta province accounts for 13 per cent of GDP.
However, past precedent suggests that any impact will be limited. HSBC says:
It is important to note too, that despite the severity of the floods in 2002 and 2007, real GDP growth in Jakarta in those years still accelerated rather than slowed down. In 2002 the capital grew 4.9%, from 4.7% in 2001; in 2007 growth came to 6.4% versus 5.9% in 2006 – the fastest since pre-Asian Financial Crisis. The same trends were evident too at the national level.

So, are investors right to pay little attention to floods and flood risks?
Not necessarily. As HSBC also points out, floods push up prices, undermining the authorities' efforts to control inflation:
Finance Minister Agus Martowardojo said Thursday that, at the very least, the floods and heavy rains could push nationwide inflation up to 1% m-o-m in January. By our estimate such would translate to y-o-y inflation of 4.5%. This is not all that much higher than our current forecast of 4.3% for January, taking into account the usual upward pressure on food prices at this time of the year, as well as the hike in electricity tariffs.

But the FinMin's estimate does suggest that the central bank's headline inflation target of 3.5-5.5% could be busted sooner rather than later. If we assume a 1% m-o-m rise in January inflation and retain the rest of our monthly estimates for the year, headline inflation rises to 5.6% y-o-y in May, rather than at the tail-end of the year as our current projections suggest.
Nor is that the end of the story. Floods, especially floods in the capital, highlight infrastructure weaknesses. This is particularly true in Jakarta this week where the president Susilo Bambang Yudhoyono's palace was flooded, forcing a postponement of a meeting with the visiting Argentine leader, Cristina Fernández.
Infrastructure is a sore point for many people in Jakarta. With some 40 per cent of the city lying below sea-level, residents are very dependent on the quality of the construction and management of its water defences. This week's inundation followed the collapse of a 30m-long section of a flood canal dyke. This YouTube video shows just one example of the terrifying results, when water poured into the basement of the UOB Plaza building.
Even though Indonesia has rapidly increased infrastructure spending from low levels in recent years – and plans further boosts – the quality of the investment has been questioned.
In a December 2012 study of road construction, KPPOD, a Jakarta-based research group, found that corruption undermined the quality of construction by diverting funds away from projects, especially those run by local authorities.
It said:
Corruption has an impact on increasing local government spending in infrastructure sector. This fact indicates that the government project cost has been bubbled as source of corruption.

Local government budgets of 41 districts/cities across Indonesia which increased during the period of 2007 – 2010 did not have impact on improving quality of the infrastructure (roads- irrigation-network). [Central] Government budget involvement may improve roads quality and it depends on [the] corruption level which occurs in the particular region.
As this chart shows, in nearly a decade of investment, road quality remained unchanged:
So it's not just a matter of increasing infrastructure investment, but also of improving the quality of that investment. And given the way corruption is ingrained in the economy, it won't be enough to appoint better construction managers. What's needed is a stronger assault on corruption.
As Ben Bland wrote for the FT this week, Abraham Samad, the chairman of the ambitiously-titled Corruption Eradication Commission (KPK), is busy pursuing many graft suspects, including former minister Andi Mallarangeng.
Prosecution, especially of high-profile suspects, matters. But a serious attack on corruption needs an attack on the causes of corruption, including weakening the links between politicians, bureaucrats and business.
As Bland wrote, "president Yudhoyono won a second term in 2009 on a mandate to fight corruption, but many Indonesians have been disappointed by what he has done since to fulfil that goal." The corruption debate is bound to rear its ugly head in next year's polls.
If it turns out that officials have in any way neglected Jakarta's water defences, the floods too could be an issue.
Related reading:
Climate change greater threat to EM financial centres than to storm-hit New York, beyondbrics
Guest post: Indonesian economy – Asia's dark horse? beyondbrics
IMF: we still like Indonesia, beyondbrics