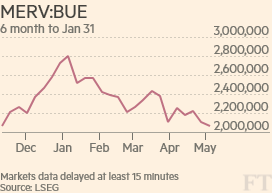 Argentina's unofficial foreign exchange rate – now nudging 8 pesos per dollar, a whopping 59 per cent higher than the official rate of close to 5, is not the only thing going up. Argentine equities are on a roll.
To quote Capital Economics economist Michael Henderson in a research note:
Argentina's Merval equity index has witnessed a huge rally in 2013. The benchmark index has been the best performing among the world's major stock markets, rising by over 20% in January.
The phrase "best in the world" is rarely applied to anything to do with Argentina's economic performance, and Henderson qualifies it:
To be fair, as a so-called 'high beta' market, it's not unusual to see Argentine stocks outperform during periods of rising global risk appetite. But even so, this month's performance does seem exceptionally strong.
With valuations a steal after a 39 per cent rout last year, Morgan Stanley and Blackrock have been buying.
Henderson cites three boosts for Argentine equities in early 2013: signs of economic recovery; the impact of planned electricity and gas tariffs, which have boosted utilities stocks like Edenor which has risen by nearly 75 per cent since the start of the year: and the likelihood that capital controls have prompted "businesses and individuals to widen the search for alternative stores of value to protect their wealth against the effects of rampant domestic inflation".
But what goes up, also comes down. Growth this year is likely to disappoint again, Henderson says, and indeed new data showed the construction sector had contracted in 2012 for the first time in three years. Henderson sees a "good chance" of renewed recession, despite consensus forecasts of a return to growth. He reckons the Merval index will end the year 10 to 15 per cent below its current levels. Over the course of the year, maybe not so best in the world, then.
Related reading:
Argentina: watch out for a devaluation, beyondbrics
Argentina's "blue" dollar blues, beyondbrics
Argentina: black market dollar hits new high, beyondbrics