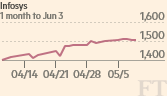 Shares in Infosys, the Indian IT group, bounced up 5.5 per cent on Monday morning, after the weekend announcement that Narayana Murthy would take back the reins as executive chairman of the board for five years.
But the news is hardly a positive reflection on Indian business culture. Internal age restrictions have been rejigged to allow for the return of the company's 66-year-old co-founder who is bringing his son in as an executive assistant. If Infosys, a group that prides itself on its professional management methods, behaves like this, then so will other Indian companies.
As Victor Mallet and James Crabtree wrote for the FT on Sunday:
Problems at Infosys came to a head in April, when the shares plunged 21 per cent in a day after disappointing fourth-quarter results and unexpectedly weak revenue forecasts had dashed investors' hopes of a turnround.

Mr Murthy said K.V. Kamath, then chairman, contacted him on May 4 and asked him to return to "add value" to Infosys, a company he helped to found in 1981 and ran until 2002 [and then chaired until 2011].
Inevitable (and flattering) comparisons to Steve Jobs and Michael Dell have followed. In a statement, Murthy, who will be paid a token Rs1 per year in his new role, commented:
This calling was sudden, unexpected, and most unusual. But, then, Infosys is my middle child. Therefore, I have put aside my plans-in-progress and accepted this responsibility.
The company does need to be jolted into action. In April, Infosys essentially signalled it doesn't know what to expect in the current fiscal year – but that it won't be too good. The company, which has been trying to move up the value chain from outsourcing into more sophisticated consulting services, forecast revenue growth between 6 and 10 per cent for this fiscal year. That's well below the 11 to 14 per cent growth that by Nasscom, the industry body expects for India's IT and business process outsourcing service exports as a whole.
This explains why analysts are happy with the change in leadership. A note from Ambit Capital, the Mumbai-based brokerage, compares shareholder returns (including dividends) generated under different chief executives: 104 per cent compound annual growth rate under Murthy, 30 per cent under Nandan Nilekani, 13 per cent with Kris Gopalakrishnan and a negative figure under SD Shibulal.
They added that the return of Murthy will also boost morale in the workforce:
Infosys has been bereft of in house heroes since its iconic Chairman (Mr. NRN Murthy), second CEO (Mr. Nandan Nilekani) and its traumatic underperformance compared to Indian rivals since early 2011. This period also saw substantial attrition not just among the troops, but also persistent departures among mid-to-senior leaders.
So, for the company and its shareholders, the transition sounds sensible, at least in the short-term. But the skills needed to manage a turnaround are quite different from the entrepreneurial drive that chacterised the company when Murthy presided over its early growth.
Meanwhile, what does this move say about Indian business culture?
This is a country where founders of their children are still at the helm of many leading companies. India these shareholders are called "promoters" and the approach is termed the "promoter-driven" model. The Hinduja brothers are a case in point. So are the Ambanis. In politics too, the Nehru-Gandhi dynasty symbolises an elite that can't seem to see past its gene pool.
Bankers often slate "promoter-driven" businesses for often taking decisions that are influenced more by emotion, ego and family considerations rather than business sense.
In other capitalist economies, economic development is often accompanied by the gradual institutionalisation of companies, with founding families giving way to external managers and outside shareholders such as banks and pension funds.
While founding families still run big companies even in the US, Europe and Japan, the more common pattern is that they slowly cash in and step aside.
India is a long way behind the west in this process. But Infosys was widely considered as a standard-bearer of modernisation. Yet it is bringing back a co-founder, tinkering with its official age limit for a chairman to allow Murthy to take charge, and permitting him to employ his son, media reports.
But there is another view – the idea that only a company founder has the passion and drive to revive flagging fortunes. One Twitter user quipped:
[blackbirdpie url="https://twitter.com/jhunjhunwala"]
Still, having someone with personal attachment, ambition and respect at the wheel could be just what this company needs.
Lately, Infosys has been harangued by analysts and shareholders for failing to pursue acquisitions while sitting on significant cash reserves – Rs218.32bn ($3.87bn) of cash and equivalents on March 31, to be precise. Its SFr330m ($345m) purchase of the relatively small Swiss consultancy, Lodestone, last year is its biggest deal yet.
A co-founder could prove the necessary catalyst. Before this weekend's surprise news, Saurabh Mukherjee, head of institutional equities at Ambit Capital, said of Infosys: "There isn't one man who will take it upon himself to press the trigger here – it requires guts, courage and vision in the executive."
Could Murthy make the difference? Watch this space.
Related reading:
Infosys recalls co-founder in attempt to revive fortunes, FT
India IT outsourcing groups struggle to woo China, FT
Infosys: computer problems, FT
Foggy forecast from Infosys, FT Video
India's Infosys: herald of bad news? beyondbrics