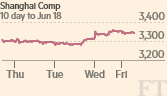 Central Huijin Investment, a Chinese state-owned investment company, has bought stakes in six of the country's largest financial groups in a bid to deliver a confidence boost to the tumbling domestic stock market in a slowing economy with interbank liquidity problems.
But whether it will succeed is doubtful.
Nan Sheng, a China banking sector analyst with CCB International told beyondbrics that the Central Huijin's purchase of shares is good for sentiment, but its impact on the market is likely to be small due to the effect of diminishing returns.
Huijin's first shares purchases back in 2008 had a large effect, and even Hong-Kong-listed H-shares rose along with the tide on the mainland, he said. But now investors are used to these interventions and think there will be little long-term impact, especially when they take account of the uncertainty surrounding the macro-economy and the slowing down of banks' new lending.
Central Huijin increased its stakes in China's four biggest banks on June 13, the first trading day after China's three days' dragon boat holiday, according to the banks' filings in Shanghai Stock Exchange on Monday.
It bought 19.3m A shares in Industrial & Commercial Bank of China (ICBC), 42.9 million in Agricultural Bank of China (ABC), 24.5m in China Construction Bank (CCB) and 18.5m in Bank of China (BOC). Central Huijin spent Rmb366m based on the four banks' closing prices on that day.
On the same day, Central Huijin raised its holdings in China Everbright Bank and New China Life Insurance – spending Rmb108m.
And it pledged to keep buying. All the filings said that Central Huijin would continue to buy shares in the secondary market in the following six months.
It's not the first time that Central Huijin decided to boost the share prices of publicly-listed banks. As the controlling shareholder of 19 financial institutions, it had carried out stock-buying operations four times previously since the 2008 financial crisis – in September 2008, October 2009, October 2011 and October 2012.
Central Huijin's purchasing is generally seen as a call for stability from the central government, and the timing of the fifth buying operation is quite understandable.
Due to a slowing economy and overhang of resumption of IPO market, the benchmark Shanghai Composite Index has retreated 11 per cent from this year's high set on February 6, and it fallen 6.8 per cent so far this year.
Stakes increase on China Everbright Bank is especially sensitive. The bank is seeking an IPO in Hong Kong for the third time, and is pressing ahead despite the liquidity squeeze which emerged before the dragon boat holiday.
But the market adopted a wait and see attitude to the central Huijin's call. The Shanghai Composite Index rose only 0.14 per cent, with price of the six companies involved increasing between 0.26 to 0.97 per cent. The Bank of China actually fell 0.73 per cent due to technical reasons before a dividend issue.
Investors have good reason to be sceptical considering the fundamental problems in the slowing economy, the proposed resumption of IPOs, which will increase the supply of stock, and the central bank's apparent decision not to inject liquidity into the tight money market.
The track record of Huijin's operations doesn't actually inspire much confidence. The past four interventions did boost the Shanghai A-share market – but only for very short periods. The market dipped again soon.
Related reading
China debt auction failure raises liquidity fears FT