One day Brazilian stocks are going to get cheap enough to lure the bargain hunters back in en masse. Alas Tuesday was not to be the day.
The Bovespa index suffered its steepest one day drop in nearly two years – closing down 4.2 per cent at 45,228.95, its lowest level since April 2009. This takes the bourse's losses this year to 25.8 per cent, making it the worst performer among the the major markets.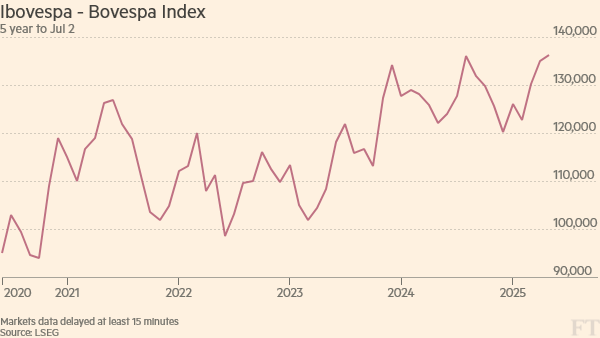 The losses suffered by the Bovespa far outpaced those seen in the wider market. The MSCI Emerging Markets Index fell 1 per cent to 932.12 while the S&P 500 ended the day almost unchanged at 1,614.08. Mexico's IPC index snapped a five-day rally with a 0.84 per cent fall and Hong Kong's Hang Seng fell 0.7 per cent.
"Everyone seems to be trying to stay as far as possible from anything Brazilian, from equities to currency," Fausto Gouveia, a fund manager at Legan Administracao de Recursos, told Bloomberg.
Tuesday's poor industrial production numbers did little to help sentiments. Output shrunk 2 per cent in May compared to April. The market had been expecting a 1.1 per cent month-on-month decline. In a note to clients, Nomura said Brazil may fall into a recession in Q4 this year as tighter monetary policy in the U.S. curbs capital flows to Latin America.
The real weakened 1 per cent to 2.2507 per dollar.
Adding further fuel to the sell-off is the ongoing crisis at Eike Batista's EBX group of companies. Shares of OGX, Batista's flagship oil company, fell another 20 per cent to R$0.45, while MMX Mineracao e Metalicos and LLX Logistica SA, dropped 15.8 per cent and 9 per cent, respectively.
After Tuesday's fall, the Bovespa is now trading on 11.52 times 2013 estimated earnings. compared with 10.22 times for the MSCI Emerging Markets index and 16.5 times for Mexico's IPC index, according to Bloomberg data.
"Brazil has gotten cheaper but investors are sitting on the sidelines because they think the stocks can fall further still," one EM fund manager told beyondbrics, citing the weakening macro outlook as well as the mass public protests that have shaken the country in recent weeks.
Yet as the FT's Joe Leahy pointed out, the latter could offer a silver lining to some Brazilian stocks.
On the one hand, there is the chance that Brazil's biggest demonstrations in more than two decades could deliver a potential "protest dividend" for listed companies, as demands for better public services leads the government to pour more money into education, infrastructure and public health.
And indeed, shares in Brazil's education companies have easily outperformed the wider Bovespa index over the past 12 months.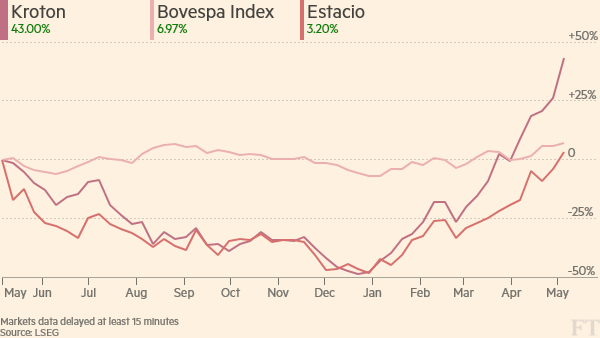 But as Leahy added:
On the other, however, the government could become more averse to passing on price increases to consumers, leading private sector operators of utilities stuck with the bill.
Related reading:
Brazilian stocks set to reap protest dividend, FT
EM stocks: cheap now? Not necessarily, beyondbrics
Watch the tide flow out for emerging markets, FT
Crowds in the streets: how bad is EM political risk?, beyondbrics
Public protest: different sparks, common desires, beyondbrics