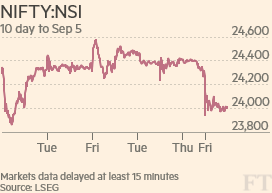 What to make of the "big bang" from incoming governor of the Reserve Bank of India, Raghuram Rajan, as he announced a set of unexpected reforms on his first day in office?
Well, the markets have given the ex-IMF economist the thumbs up. The rupee was up 1.5 per cent to 66 to the US dollar on Thursday morning, while the benchmark Sensex index rallied 2.2 per cent to 18,971.03.
In a press conference after markets closed on Wednesday, a sprightly Rajan commented: "These are not easy times, and the economy faces challenges. At the same time, India is a fundamentally sound economy with a bright future."
And then he launched into a set of announcements that left the audience in something of a flap.
The 23rd governor of the RBI began by saying he has set up a panel to reconsider India's monetary policy framework.
It's a smart move to boost sentiment. "[It] is very much needed given what's happened in the past two years," commented A Prasanna of ICICI Securities. "It will improve confidence in monetary policy in India."
That confidence is part of the reason the rupee has recovered. But there were some other temporary measures in Rajan's plans that will help the floundering currency and the unsustainable current account deficit more directly: a swap window to attract Foreign Currency Non-Resident (B) dollar funds, which essentially provides foreign exchange cover for banks, and an increase in the overseas borrowing limit on bank's unimpaired Tier I capital which can then be swapped with the central bank at a concessional rate.
Yet, it is banking stocks that have really rallied on Thursday. HDFC Bank led the markets higher, up 6 per cent at Rs598.55 by 10am in Mumbai, while Yes Bank gained a whopping 15 per cent to Rs271.45. Why?
Well, Rajan is also keen on financial inclusion as a way of boosting the economy. He announced that well-run domestic scheduled commercial banks will no longer need RBI permission to open branches. The current round of bank licencing, which has attracted applications from some of the country's leading industrial groups, won't be the end. And Rajan mentioned reducing obligations on banks to invest in government securities and lend to priority sectors.
Saurabh Mukherjea of Ambit Capital commented: "By saying that the RBI is willing to give bank licenses on an ongoing basis, the new governor is taking some of heat out of the much awaited round of new bank license awards in February-March 2014. Aspirants for these licenses will take renewed hope from the governor's speech."
Indranil Pan of Kotak Mahindra added: "While he is saying you can open up branches, he is also asking you not to lose focus on inclusive banking. On the other side he also wants to push internet and mobile baking. You may not see people rushing forward."
Worried about the gap between talk and action? Well, the governor's proven you skeptics wrong. The RBI has already followed up on Rajan's speech with a note on opening a special concessional window for swapping foreign currency non-resident (banks) deposits.
And he's clearly not shy of hard-hitting reforms. At the close of his speech, Rajan said: "Some of the actions I take will not be popular. The Governorship of the Central Bank is not meant to win one votes or Facebook "likes"."
Either way, Rajan has the approval of social media users with one local journalist tweeting:
Rupee recovers close to 65 mark, Sensex gains nearly 500 points in early trade. RBI governor Raghuraman Rajan swamped with Facebook likes.
With the first flush of approval online and in the markets, all eyes are now on Rajan's first monetary policy statement on September 20.
Related reading:
India – Reserve judgment, Lex
Rajan enters RBI with a big bang, FT
India crisis threatens big hit on banks, FT