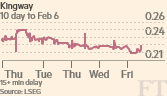 SABMiller's latest Chinese acquisition has had a decidely mixed reception in the stock market.
The global brewer and its Chinese partner China Resources Enterprise (CRE) announced on Wednesday that they would pay Rmb5.38bn ($846m) for the beer operations of Kingway Brewery Holdings, a regional producer based in wealthy Guangdong province.
This is small beer for SABMiller and its shares barely moved on Thursday. But in Hong Kong, CRE fell 3 per cent while Kingway soared 16 per cent before closing 7 per cent higher.