Energy analysts are still digesting news from the US last night that the US National Commission investigating the Macondo oil spill had found that both BP and Halliburton had known about problems with the cement used to seal the well, but did not act on the information.
The company itself has come out all guns blazing, issuing a 1,300 word statement contesting the findings of the report. In it, the company states robustly:
Halliburton does not believe that the foam cement design used on the Macondo well was the cause of the incident.
But the market is not so sure that the company won't now have to share some of the indemnity for the spill. Its shares fell nearly 8 per cent yesterday after an initial 15 per cent dip immediately after the news.
So what do people make of the news in the cold light of day? How bad is this for Halliburton?
Well cement is how Earl Halliburton, its founder, got started 80 years ago. The latest revelations could end up sullying the company's name more than allegations of profiteering during the Iraq war, asbestos poisoning, bribery of foreign officials or what some considered an unseemly association with Dick Cheney, the former vice-president.

To its credit, BP has borne almost all the financial and reputational cost of the accident since then. It appears increasingly that this may have been unfair but, like the possibly unsafe cement at the bottom of the sea, the story of who did what wrong is dark and messy.
But the analyst community is divided. RBC has maintained its outperform rating, saying:
[Halliburton has] made its service contract with BP available to the public. The indemnity clause appears be broad and robust.
But its analysts add:
The sell-off yesterday appears similar to April 29th when the magnitude of the Macondo situation led investors to take a sell-first approach. It is within the realm of possibilities that selling pressure may continue. We would not be shocked to see Halliburton stock trade back to late April/early May levels between $28-$30/share.
JBC Energy is less sure, however, calling the report, "a finding that could shift the payload for the disaster significantly up from BP to the service sector company".
We'll try and keep you up to date with other analyst reports if and when they come out during the day.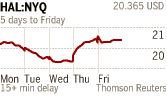 UPDATE: The market appears to have decided – for now at least – that an 8 per cent loss is about right for Halliburton given last night's news. After an initial further 4 per cent drop this morning, the stock has recovered to sit almost exactly where it closed yesterday.