After Exxon and Shell, Chevron has become the latest oil major to jump on the Marcellus shale bandwagon.
Its $4.3bn deal to buy Atlas Energy will give it access to 9,000bn cubic feet of natural gas and 486,000 acres of Marcellus shale.
George Kirkland, Chevron's vice chairman, said:
The Atlas Energy assets further advance Chevron's global shale gas position, complementing the company's recent entrance into shale gas opportunities in Poland, Romania and Canada
But the deal is dwarfed by Exxon's at the end of last year, which saw the company pay $41bn to buy XTO Energy.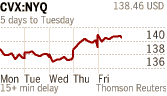 UPDATE Thanks to Nick Grealy below who pointed out this article in the FT earlier this year, in which Sheila McNulty reported:
John Watson, chief executive of Chevron, is refusing to join rival international oil majors in the rush for US shale gas, warning that the "price tag is too high" to justify the investment required.

"We haven't seen the returns," he told the Financial Times.

Mr Watson, who has only been in the top job at the US's second-biggest oil company for three months, is confident that his decision not to follow the pack into US shale gas is the right one to make.
I guess the investment case has changed since then.