In a way, Chevron's $4.3bn deal for Atlas Energy – giving it a foothold in the Marcellus shale gas field – was not particularly surprising. After Exxon and Shell made similar moves to take advantage of the US shale boom, Chevron was simply playing catch up.
But two things about the deal have raised eyebrows: the company's previous resistance to such a strategy and the persistently low price of gas.
John Watson, the company's chief executive, told the FT last year he would not join the rush for US shale, warning that the "price tag is too high". "We haven't seen the returns," he added.
Even as recently as October, Pat Yarrington, Chevron's CFO, was telling investors:
What we have been trying to do is have a very cost- effective entry point [into shale gas], and we have not found that to be the case in the US market.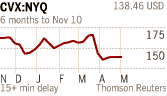 Concerns about the cost of the deal persist as the market digests the news. Robert Gillon, director of energy company policy at IHS, says: "[The deal] will look relatively expensive on a proved basis," particularly given present low natural gas prices. But he also called it a sensible deal, insisting it would work in the long term.

But the IEA's latest World Energy Outlook, released yesterday, might give Chevron's directors cause for concern, even in the longer term. The report warns the current low gas price could last for a decade, warning:
[There is] a glut of global gas supply capacity that has emerged as a result of the economic crisis.
And…
The boom in US unconventional gas production and surge in liquefied natural gas capacity could persist for longer than we expect.
So, unless there is major infrastructure change, particularly in transportation, and a switch to gas power, supply risks outstripping demand for some time to come.