In this first weekly readers' Q&A session of 2011, Chris Huhne, the UK energy secretary, answers your electricity-market related questions.
In the second of two posts, he discusses the cost of emissions targets, the chances of another oil shock and what should happen to the "big six" power companies.
Earlier, he addressed the limits of feed-in tariffs, what will happen to the renewables obligation and how to keep green jobs in the UK.
Next in the hotseat is Jack Gerard, the head of the American Petroleum Institute, who will be answering your questions next Friday, January 14th. Send in your questions for consideration by the end of Sunday, January 9th – to energysource@ft.com.
But for now, over to Chris:
Cost of emissions targets
What is the government's estimate of the potential financial and/or economic cost of Britain meeting a pledge to cut emissions by 42 per cent from 1990 levels by 2020? What analysis has it produced of that potential cost?
Matthew Sinclair, director, The Taxpayers' Alliance
The UK currently has a 34 per cent target by 2020, which has been set in legislation and is planned to be delivered by the reductions required under our first three carbon budgets (2008-2022). I am a strong advocate of the EU moving to a 30 per cent target – it would be the right thing to do economically as well as for the planet.
Any revision of the EU target will involve burden-sharing negotiations to determine how this EU target is split between member states. Until then it is premature to suggest what the UK's share of the target and costs might be.
I am a strong advocate of the EU moving to a 30 per cent target – it would be the right thing to do economically as well as for the planet.
Oil shock
Does the UK government believe an oil shock is likely before 2014? If so, how has this been budgeted in the national accounts? What are the implications for the current austerity budget and outlook for the UK's economy?
Steven Kopits, managing director, Douglas Westwood

The costs and risks of fossil fuel production are only going to increase in the future, as is the demand from growing economies such as India and China.
The oil price is factored into the government's wider economic thinking. The new Office for Budget Responsibility published its latest economic and fiscal outlook last month, including an assumption that future oil prices will rise year on year.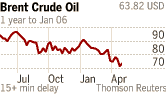 This leads me to the conclusion that a shift towards non-fossil fuels is in our long-term national interest, as well as the interests of the planet. Once we have a decarbonised electricity system in place, the prices we pay for supply will be lower and far more stable than they would be if we resigned ourselves to an oil and gas dependent future.
Peak oil
Your department is refusing to disclose a secret report on peak oil written for ministers, despite admitting in other documents that "secrecy around the topic is probably not good". Why are you hiding information on how serious a threat peak oil is from the public?
Lionel Badal
The Information Commissioner is currently considering the case you refer to.
I am not aware of any secret report on peak oil and I'm certainly not hiding information from anyone.
Of course there are a range of views on peak oil, which is why our chief scientist has been gathering views from a wide range of people. Whatever your views I think the priority has to be to address the climate change imperative and make the transition to low carbon energy. That is why the UK is pressing forward with its low carbon energy initiatives, with, for example, £1bn committed in the spending review to take forward carbon capture and storage, £860m to provide incentives for renewable heat and yet another £1bn committed to the Green Investment Bank to support investment in low carbon technologies.
Splitting up the "big six" power companies
Given that the UK energy market (gas and electricity) is now effectively controlled by an oligopolistic "big six", might now be the time to consider splitting energy suppliers from their upstream parents, to protect the UK's fragile economy from continuing (and developing) exploitation?
Mark T Johnson, managing director, Torse
Ofgem's primary duty remains the protection of consumers, and that means ensuring proper competition in the energy market. That's why the regulator announced a review of the effectiveness of the retail energy market to see if further action is needed to protect consumers following the recent announcements of price increases by four out of the six main energy suppliers. Ofgem is also reviewing the state of wholesale power market liquidity due to concerns that there are barriers to new entrants to the generation and supply markets. It will report on both these review in the first half of 2011.
Breaking open the wholesale market
The current electricity wholesale market is completely opaque to any potential new entrants, it largely consisting of internal arrangements between the big six and confidential bilateral deals.
Does the government recognise this is a major barrier to entry and innovation. If so, how does the government intend to use the market review to force more transparency and open access into the market to encourage new entrant?
Mike Russell, partner, Accenture
Absolutely – that is why I await the results of the Ofgem review into liquidity in spring 2011. We need a transparent and liquid electricity market so we can bring new entrants into the market. This will be a key part of our electricity market reforms.
What is also clear to me is that the scale of investment needed over the coming decades – £200bn in gas and electricity infrastructure by 2020 and much more beyond that – is going to need more than just the 'big six' incumbent companies. The introduction of greater certainty with long term contracts for low carbon generation is in part designed to encourage new entry to the generation market and stimulate competition.
Managing supply
Which will be of greater importance for the UK grid over the next 10 years: storage or demand management? What will the government do to encourage either at all levels in the system from retail upwards?
Damon Hart-Davis
We need to manage supply and demand in smarter ways to decarbonise electricity, and that means using all the technologies in our tool box. It's certainly not all about quantity of supply – it's as much about using demand management, storage and interconnection to balance our system, in particular at peak times of the day.
I'm not going to try and play god with technologies, but in the near term I can see a particular potential for demand response – so called 'negawatts' – as a cost effective way of maintaining security of supply. Battery storage costs are falling sharply and I hope can play a role in the longer term. Electric vehicles can act as mini-batteries when plugged in, or building batteries alongside wind turbines can turn intermittent into flexible demand – like they are trialing in Japan.
This is why we've structured the proposal for a capacity payment, one of the four pillars of our market reform package, in a technology neutral way, so we can incentivise much greater market participation and investment in these balancing technologies.