It was bound to happen at some point. Today, four weeks into the new year, Brent crude did what it hasn't done since 2008: topped $100 a barrel.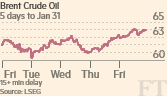 This is from Reuters:
Brent crude oil futures surged above $100 a barrel for the first time in 28 months on Monday on concerns that anti-government protests in Egypt could create instability across the Middle East, possibly disrupting oil shipments through the Suez Canal.
The question now is how long it stays up here and what damage it could do to the global economic recovery.