The FT's Javier Blas has been writing about the disruption in the energy markets as a result of the Japan earthquake. Here is the current state of play with energy-related commodity prices:
Natural gas – up 7.7 per cent
Analysts predict the knock to Japan's nuclear capacity will lead it to import more natural gas, which will drive up overall demand.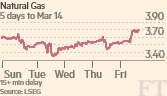 Oil  – down $1.94
Damage to Japanese oil refineries could reduce demand in the short term. However, the country may soon have to start importing more to make up for the nuclear shortfall.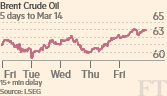 Coal – Japan may have to pay more than $125/tonne
Japan's utilities agree annual contract prices when buying coal from Australia. This year, the contracts will be settled by April 1, and prices may top the previous record of $125/tonne. Analysts estimte additional demand could be anywere between 5m and 30m tonnes.
Uranium – ?
Uranium prices are quoted over the counter but are monitored on a weekly basis by Ux Consulting Group. The last measurement was taken on March 7, so Ux's subscribers should find out today what the impact has been on this particular market. It would be very surprising if prices haven't taken a significant knock, however.