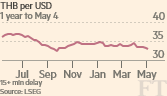 By Patricia de Leon of mergermarket
Thai companies are keeping up the pace with their overseas deals, boosted by a maturing domestic economy and and a stronger baht.
In the latest  deal announced this week, Ratchaburi Electricity, one of the country's largest power generators, is paying Bhat6.7bn ($223m)  for 56 per cent in Australia's Transfield Services Infrastructure Fund – a power and water company.
This will not be Ratchaburi's last foray overseas, says Jirasee Kasuwan, energy sector banker at The Quant Group, a Bangkok-based independent investment bank. The company has "a very huge ambition to expand internationally," he says, which began with  investing in a greenfield power plant in Laos a couple of years ago.